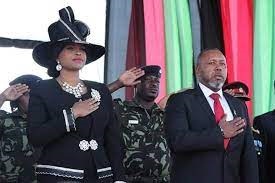 K311 million medical expenses for vice president's spouse
As the debate on the 311 million kwacha medical expenses for vice president's spouse continue, social commentator says the amount is exorbitant.
Yesterday social media was flooded with a document of government's approval of Mary Chilima's medical expenses in South Africa.
In an interview with social activist Joe Mayere the case is a wakeup call for government to invest in its health facilities where the elites will be treated to save the country from loosing huge sums of money.
Although symphasizing with the VP's wife, Mayele said "government could have used health insurance protocols instead of releasing the money."
In a separate interview Osman Kennedy a legal expert says the law permits government to place the spouse of the vice president on medical insurance and not free medical services.