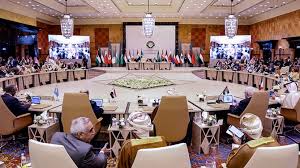 Saudi Arabia hosts Arab-Islamic summit on Gaza Conflict
Saudi Arabia is hosting an Arab-Islamic summit focused on the situation in Gaza
The conference is a result of consultations between the Kingdom, Arab league and Organization of Islamic Cooperation
In his opening remarks on Friday at a Saudi-African Summit, Saudi Crown Prince Mohammed bin Salman stressed the necessity of stopping Israeli war in Gaza, forced displacement and creating conditions for return of stability and peace.
He reiterated the kingdom's condemnation of Israeli war in Gaza during and his words were echoed by several African leaders.
Before making his speech, Chad's President Mahamat Idriss Deby asked for a moment of silence to remember Palestinian victims of the conflict.
Other leaders expressed their nations' desire to see an immediate ceasefire in Gaza that would end the humanitarian suffering and work toward establishing peace.
Meanwhile Saudi Fund for Development has announced it would sign agreements worth 533 million dollars with African countries