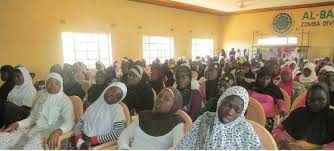 MUSYO urges Muslim girls to focus on education
Muslim Sisters Youth Organization (MUSYO) has urged Muslim Girls in the country to focus on education despite challenges they are facing.
The advice has been made during a get together organized by MUSYO Lilongwe chapter held at Mai Aisha Children's Home at Area 6 in Lilongwe.
Guest of honor at the function Mariam Mdoko cited humiliation as one of the challenges Muslims girls face because of putting on hijjab.
Mdoko asked the girls to report any kind of discrimination to relevant Authorities to end the malpractice.
"You should never lose your identity of being Muslims in the course of seeking education," says Mdoko
In her remarks chairperson for MUSYO Lilongwe chapter Laika Mtambo, said the function was organized to encourage girls to stay in school.
Mtambo asked the girls to pursue both Islamic and Circular education in order to secure their future.
"MUSYO will continue motivating Muslim girls in the country so that a lot of girls can see the value of education," Mtambo says
One of the Girls who participated in the get together, a student at Mai Aisha Academy, Saliya Muhire, said the gathering has helped her understand how to become an ideal Muslimah and the importance of being educated.
"We will use the knowledge gained effectively and disseminate it to her fellow Muslim Girls so that a lot of girls can take their studies seriously,"Muhire
The get together brought together a lot of Muslim Girls from different schools around Lilongwe and Dowa.