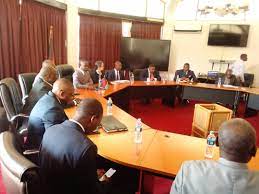 Malawi Passes IMF First Test on 174 million Dollars Credit
Malawi has passed the first test of International Monetary Fund IMF to be given 174 million Dollars about 195 billion Kwacha in 4 years
This has been announced after IMF team reached a staff-level agreement on the second and last review of Staff Monitored Programme
IMF mission Chief Mika Saito says the agreement is subject to approval by the global lender's management and executive board scheduled for mid-November this year
Saito who has been meeting Malawian officials from 12th to 20th September August says the arrangement is expected to catalyse grant financing and support ongoing efforts to restore a stable as well as sustainable macroeconomic position.
Minister of finance Sosten Gwengwe says this is a step towards the right direction and stressed that government will continue implementing economic policies and reforms that would ensure the country remain on the right track.
Gwengwe has however expressed hope that the staff level agreement will ignite confidence of investors to come and open businesses in the country.
The IMF team met the President, Minister of Finance, Reserve Bank of Malawi Governor and other senior government officials.