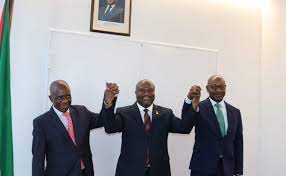 Minister of Energy appeals for African nations skills sharing
Minister of Energy Sheikh Ibrahim Matola has appealed for greater sharing of skills and ideas among African nations in creating effective policies which benefit both national and regional levels.
Matola made the call at the 9th edition of Mozambique Mining and Energy Conference and Exhibition held in Mozambique's capital, Maputo.
Speaking at a High Level Roundtable discussion, Matola highlighted that it is time to encourage regional integration while focusing on developing solutions from within.
The minister said such collaborative efforts are paramount as common problems cannot be resolved without proper cooperation among African countries.
In his remarks, Mozambique's Minister of Mineral Resources and Energy, Carlos Zacarias, concurred with Matola, saying the regional integration is a key towards solving energy challenges that the Southern African Region is facing.
Carlos Zacarias said the interconnector project between Mozambique and Malawi is a good example on how the countries in the region can work together.