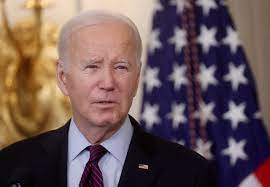 Rights Group sues America's President, Cabinet Members on Gaza "genocide"
New York civil liberties group the Center for Constitutional Rights (CCR) has sued President of United States and two of his cabinet members for failing to prevent and aiding and abetting "genocide" in Gaza.
(CCR) filed the suit on behalf of Palestinian human rights organisations, Palestinians in Gaza and US citizens with relatives in the besieged enclave that has faced more than a month of relentless bombardment by Israel, which receives funding and weapons from the US government.
A federal complaint (PDF), filed on Monday against President Joe Biden, Secretary of State Antony Blinken and Secretary of Defense Lloyd Austin, accuses them of "failure to prevent and complicity in Israeli government's unfolding genocide".
More than 11,200 Palestinians have been killed in Gaza since Israel launched attacks on October 7.
Numerous legal scholars, rights groups and humanitarians have also called Israel's actions in Gaza genocide.