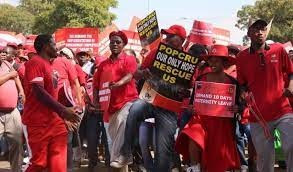 South Africa deploys military amid general strike
South Africa has deployed military personnel to hospitals as a public health crisis intensifies after medics joined other public service workers in a strike to demand better pay.
The military personnel are offering medical services in worst affected facilities.
Public workers have been protesting since Monday last week to demand for a 10% wage hike but government has offered 4.7%.
Their union has vowed to intensify the strike until its demands are met.
Emergency teams are believed to have been unable to respond to some emergency calls as access to some facilities remained blockaded.
Health Minister has said the strike had led to loss of lives.