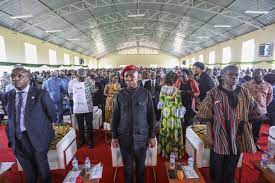 South Africa Opposition criticised Kenya's President for supporting Israel in Gaza conflict
South African opposition leader Julius Malema has criticised Kenya's President William Ruto for supporting Israel in Gaza conflict.
Speaking at the launch of Pan African Institute in Kenya, Malema accused Ruto of backtracking on his commitment to lead in getting rid of US dollar as a means of trade in Africa.
Malema, who is the Economic Freedom Fighters party leader, also condemned Ruto for warmly welcoming King Charles III and Queen Camilla during their recent visit to Kenya.
He also hit on the Kenyan leader for failing to fulfill the promises he made to Kenyans when he ran for office last year.
Malema accused President Ruto of failing to follow the "true cause of African freedom fighters who were killed and tortured by the colonialists".
The president has, however, defended his economic policies, saying he was cutting on public debt.