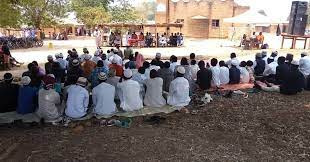 Thondwe Muslims Unite for a Purpose
Muslims in Traditional Authorities Mlumbe and Chikowi in Zomba district have agreed to establish structures which will be dealing with issues which are affecting welfare of them in their localities.
This comes after some hiccups encountered on issues to do with wearing of Hijaab by female learners in government aided schools and compliance to Halal procedures by butchers in local markets.
Speaking after the meeting which took place at Thondwe Main Masjid in the district, Leader of the Sheikhs in Traditional Authority Mlumbe, Sheikh Mussah Anubi, said community members have a critical role in making sure that welfare of Muslims is upheld.
Sheikh Anubi said the Hijab issue needs community commitment to engage authorities of the government aided schools which are still not allowing female learners to be putting on Hijaab.
On the Halal issue Sheikh Anubi said such structures which will comprise Sheikhs and Masjid Committee members will be required to work with butchers in their local markets in making sure that they comply to Halal processes.
Commenting on the same Vice Secretary for Thondwe Masjid, Ibrahim Jalasi said issues to do with Halal is connected to safeguarding one's faith and that of others hence a need to play a part.
On the disagreement that ensued between meat sellers and Muslims at the Thondwe Market, Jalasi said the negotiations are at an advanced stage and soon will be signing an agreement on the compliance of the Halal procedures.