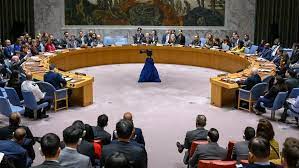 UN Security Council adopts draft resolution for humanitarian aid in Gaza
UN Security Council has adopted a draft resolution calling for urgent and extended humanitarian pauses and aid corridors throughout Gaza Strip.
The vote marked the first time council members have managed to adopt a resolution related to war in Gaza.
The text of the resolution, proposed by Malta also calls for all sides to refrain from depriving Gazan civilians of the basic goods and services that are critical to their survival.
Throughout the resolution, the council also rejected forced displacement of Palestinians.
Twelve of the 15 council members voted in favor of the resolution.