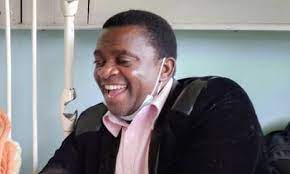 Abducted Zimbabwe opposition activist found dead
Zimbabwe opposition activist who was abducted at the weekend while campaigning ahead of key by-elections has been found dead.
Tapfumanei Masaya's body was found in a decomposed state on the outskirts of the capital Harare, his party, the Citizens Coalition for Change, said.
The party has demanded police to investigate this crime and bring perpetrators to justice.
In a statement, the police confirmed the location of a body but said the identity of the dead person was yet to be established and more details would be released later.
The CCC says the activist had been forced into a vehicle by armed men on Saturday while campaigning for a party candidate ahead of the 9 December polls.
The by-elections are being held following what the party said was an "illegal and fraudulent" recall of its members.
Last month, over a dozen opposition MPs lost their seats after a man, who declared himself as the party's interim secretary-general, said the MPs were no longer members.