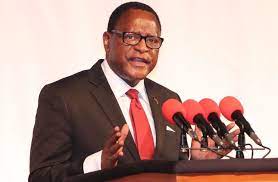 Chakwera slams western countries on travel ban
President Dr Lazarus Chakwera has slammed western countries for imposing travel bans to SADC countries following the looming outbreak of new variant of covid 19 called Omicron.
According to his face book page, Dr Chakwera who is also chair of SADC the ban is uncalled for saying such decisions have been made based on afrophobia.
He said South Africa's scientists deserve a credit for identifying the variant before anyone else.
Commenting on the matter Lilongwe based political scientist, Makhumbo Munthali commended Dr Chakwera for standing firm and condemning the behaviour
"Time has come for western countries to stop taking Africa as inferiors since other countries have not been treated in that way," Chakwera
Meanwhile, Health activist Maziko Matemba says Western countries have rushed in imposing the ban
Matemba said the introduction of new preventive measures is commendable although the country has not registered cases of new covid-19
"Provision of Pfizer vaccine to children aged 12 and above should be based on science," Matemba
Among others the presidential taskforce announced that Dzaleka Refugee Camp will be technically managed as a point for entry for purposes of covid-19 control