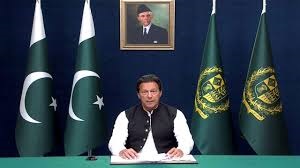 Pakistan court drops terrorism charges against former Prime Minister
A court in Pakistan has ordered that terrorism charges against former Prime Minister Imran Khan for his remarks against a female judge and senior police officials be dropped.
The Islamabad High Court said Khan's comments did not attract charges under Pakistan's harsh Anti-Terrorism Act, which carries a maximum sentence of life in prison and even capital punishment.
Khan, 69, was charged with terrorism for remarks made at a public rally against police officials and a female judge who had ordered the arrest of one of his top aides, Shahbaz Gill.
On Monday, a two-member bench led by Chief Justice of Islamabad High Court Athar Minallah heard the case, in which Khan had already been granted interim bail till September 20.