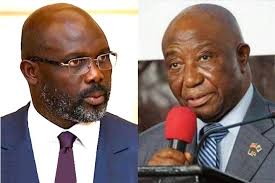 Liberian President congratulates Opposition Candidate in his victory
Liberian President George Weah has called his challenger in the presidential race, Joseph Boakai, to congratulate him on his victory.
In an address to the nation Weah said "the Liberian people have spoken and he has heard their voice".
The opposition candidate holds an unassailable lead of 28,000 votes with nearly all ballots counted.
A former football star, President Weah has been in power since 2018 and will step down in January.
He came into the job on a wave of enthusiasm, especially from younger voters, having won that election – also against Boakai – by a large margin.
But a perception that he had failed to tackle corruption, rising prices and continued economic difficulties tarnished his image.