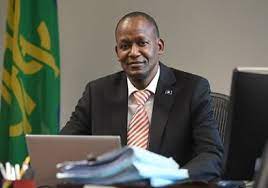 SADC's Executive Secretary to Lead Electoral Observation Mission to Eswatini
SADC's executive secretary, Elias Magosi will lead the regional bloc's Electoral Observation Mission to Eswatini for the Kingdom's general elections slated for the end of this month.
Magosi was assigned to the mission by Zambian President Hakainde Hichilema in his capacity as chairperson of SADC Organ on Politics, Defence, and Security Co-operation.
The deployment is in line with the revised SADC principles and guidelines governing democratic elections of 2021, after King Mswati extended the invitation.
Magosi will then have the Mission "deployed to all four regions of the Kingdom of Eswatini to observe the pre-election and post-election phases."
Just like the previous mission to Zimbabwe, the mission will assess the conduct of the elections against the bloc's principles and guidelines.