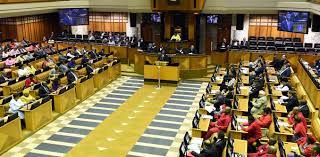 South Africa's Ruling Party supports Parliamentary Motion to close Israeli embassy
South Africa's ruling party has said it will support a parliamentary motion calling for the Israeli embassy in South Africa to be closed.
In a statement on Thursday, African National Congress (ANC) also welcomed a call from President Cyril Ramaphosa for International Criminal Court to investigate Israel for war crimes.
ANC said given the unfolding atrocities in occupied Palestine, it will agree to a parliamentary motion which calls upon government to close Israeli embassy in South Africa and suspend all diplomatic relations with Israel until it agrees to a ceasefire.
The opposition Economic Freedom Fighters (EFF) proposed the motion calling for suspension of all diplomatic relations with Israel in solidarity with Palestinian people amid Israel's war on Gaza.
The motion will be voted on at a later date and earlier this month, South Africa recalled its diplomats from Israel, but it has not had an ambassador to Israel since 2018.