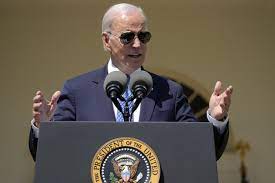 US President announces 2024 re-election
US President Joe Biden has announced he will run for re-election in 2024.
The Democrat has long signaled that he will seek a second four-year term and formally launched his campaign in a video on Tuesday.
He said it was a pivotal moment with freedoms and rights under threat.
Biden, 80, is already the oldest president in US history and would be 86 after a second full term in 2029.
He faced off against Donald Trump in 2020, defeating the Republican after promising to "restore the soul of the United States".
Trump has already launched his bid for the presidency, raising the prospect of a rematch between the pair on 5 November 2024.
Both are considered favourites to win their nominations.