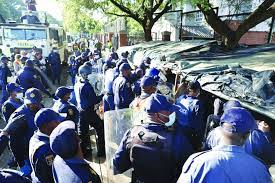 South Africa evicts asylum seekers camped outside UN office
South African police have evicted more than 100 asylum seekers camping for over three years outside the UN High Commissioner for Refugees (UNHCR) offices in Pretoria.
The asylum seekers began living in makeshift tents pitched outside the UNHCR offices as they asked to be relocated to other countries after a spate of xenophobic violence in 2019.
Pretoria municipality last week secured a high court order to remove them, and police did so on Friday.
The court documents said the refugees would be evicted and taken to Lindela Repatriation Centre, a temporary holding centre for undocumented migrants who are earmarked for deportation to their countries of origin.
Scores of police officers led by the sheriff's department carried out the eviction with the aid of immigration and other officers.
Using a megaphone, state attorney Kobus Meijer warned the people living in the encampment that they would be arrested and detained if they resisted removal.
Some families vacated voluntarily while others protested.
UNHCR spokeswoman Laura Padoan said "they were asking to transport them to a refugee camp in another country, but this is outside of their mandate."
Padoan said UNHCR urged authorities carrying out the evictions to do so "peacefully and that families are treated humanely, with dignity and respect.