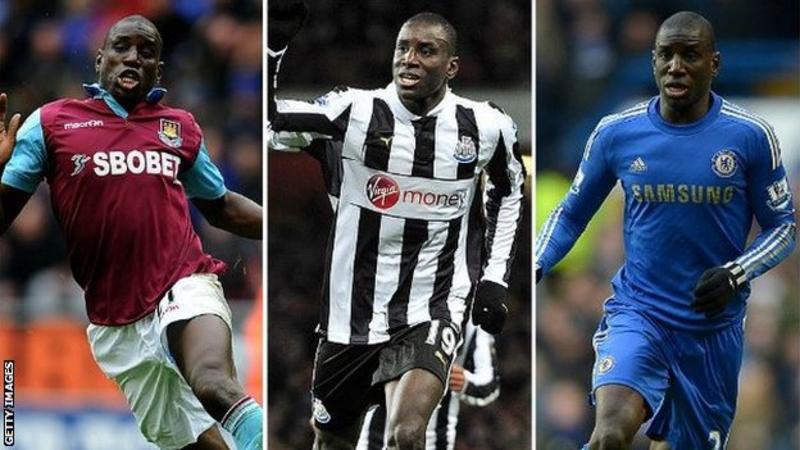 Demba Ba calls for Uighur solidarity protest over treatment by China
Former Premier League and Senegal striker Demba Ba has called on football to condemn China's treatment of Uighur Muslims, whatever the financial cost.
"The Black Lives Matter movement is stronger when non-black people step up for it," Ba told BBC Sport.
"When are we going to see the rest of the world stand up for Muslims?"
More than a million Uighur are believed to have been detained without trial in prison camps on the basis of their faith and ethnicity.
The Chinese government has separated Uighur children from their parents and reportedly forced women to be sterilised.
Footage of blindfolded Uighur prisoners being led on to trains has gone viral while leaked documents have detailed "discipline and punishment" at camps, which former detainees claim include torture.
China, which initially denied the camps' existence, now says they are voluntary schools for anti-extremism training.
"An electric baton to the back of the head" – a former inmate described conditions at a secret camp to the BBC
"I have to try and organise something so football players can get together and, in the meantime, talk about this matter because not a lot of people want to," said ex-West Ham, Newcastle and Chelsea forward Ba.
"I know there are footballers who want to fight for justice, whether Muslim, Buddhist, Christian, any belief.
"As sportspeople, we have a power we don't even know. If we get together and talk, things change. If we stand up, people stand up with us."
The Premier League gave the go-ahead to public shows of support for the worldwide campaign for racial justice, set in motion by George Floyd's death in policy custody in the United States in May.
Players from all clubs 'took a knee' before kick-off while player names on the back of shirts were replaced with the slogan Black Lives Matter after a collective request to the Premier League.
Ba is not the first footballer to speak out publicly for the Uighur cause.
Arsenal's Mesut Ozil posted on social media in December, highlighting Uighur persecution and calling for solidarity from fellow Muslims.