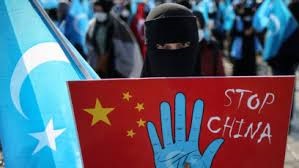 Diplomats, human rights advocates pressurize UN over China's treatment on Muslims
Diplomats and human rights advocates have stepped up pressure on United Nations to act over China's treatment on Muslims.
The call for action took place as world leaders arrived in New York City for annual United Nations General Assembly (UNGA) meeting, two weeks after UN Human Rights Council found in a landmark report that China had potentially committed "crimes against humanity" in Xinjiang.
Fernand de Varennes, UN's special rapporteur on minority rights, said inaction is no longer possible and cannot allow China's action to go unpunished.
Jeffrey Prescott, a deputy US ambassador to UN, suggested the integrity of the institution was at stake in its response to China.
Since 2018 when UN Committee on Elimination of Racial Discrimination first revealed that more than one million people were being held in a network of detention centres across Xinjiang, academics, exiles and the media have uncovered abuses from forced labour to family separation, and destruction of Uighurs' culture and religious identity.