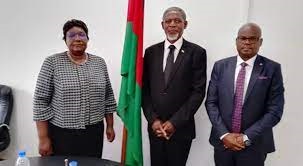 Electoral reforms bills ready for tabling in parliament for 2025 elections-MEC
Malawi Electoral Commission MEC says electoral reforms bills are ready for tabling in parliament in November, in preparation for 2025 elections.
In a statement signed by MEC's chief elections officer Andrew Mpesi,  the  three  draft bills  submitted to ministry of justice and constitutional affairs  are Constitution (Amendment) Bill, Electoral Commission (Amendment) Bill and  Presidential, Parliamentary and Local Government Elections Bill.
Mpesi added that the bills were adopted by Cabinet and referred to Ministry of Justice for finalization for presentation and tabling before Parliament.
He said on Monday, 12th September the Commission held a meeting with Minister of Justice and  Constitutional Affairs to be apprised on the progress made on the Bills.
The Minister assured the Commission that the Bills will be presented in Parliament during the November 2022 sitting and published in the Gazette this September to satisfy  requirements of presentation as well as tabling of bills before National Assembly.
MEC therefore has urged government to fund early the electoral body starting from 2022/23 financial year in order to commence preparations for the 2025 elections.
The Commission has since said will soon issue a calendar that will detail critical steps to be taken as it prepares for 2025 elections so that all stakeholders can follow and participate effectively.