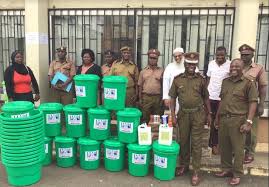 Muslim Prison Board donates corona virus preventive equipment to prison
National Muslim Prison Board has donated sanitary materials intended to prevent prisoners from the Corona virus.
Speaking during the handover ceremony Executive Director for the Board Abbas Panjwani urged Malawians to remember the plight of inmates by giving them necessities towards their healthy survival.
"We thought of donating to prisons considering crowding conditions which make prisoners vulnerable to the virus," says Panjwani
He has meanwhile urged people of good will to spare resources towards alleviating challenges which prisoners face during their everyday life.
In his remarks, Southern Region Prison Officer Risted Mabeti commended National Muslim Prison Board for the donation which he said is timely.
"Prisons are more prone to the pandemic due to congestion and illegal immigrants who are kept there," says Mabeti
He has meanwhile urged others of good will to emulate the gesture.